Series 200 Flow Sensor Specifications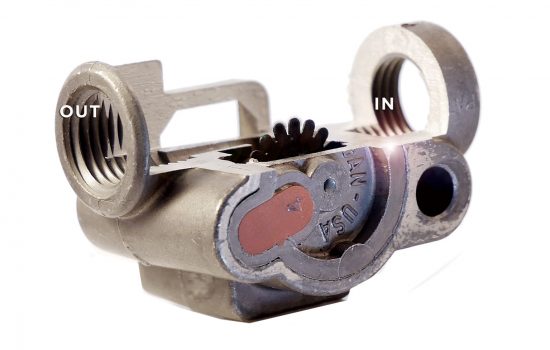 ('Cutaway' view of our 200 Transducer)
Description:
Series 200 Turbine Flow Transducers measure flows of hydrocarbon fuels such as gasoline, kerosene, and #2 diesel fuel and other light transmitting, non-corrosive liquids of similar viscosity.  Typical fuel flow applications include aircraft fuel monitoring systems; gasoline, diesel, and gas turbine engine test stands; and industrial furnaces.
The transducers give repeatable signals on gasoline across a 100 to 1 flow range down to 0.3 GPH.  The higher viscosity of diesel fuel reduces signal repeatability at flow rates below 2 GPH.  Pressure drops are very low compared to other turbine flow transducers.  The transducer bearing system is rated for continuous operation at the upper end of the flow range.
The transducers produce a current pulse signal from an opto-electronic pickup with a preamplifier.
Principal of Operation:
Liquid enters the flow chamber tangentially, follows a helical flow path, and exits vertically, thereby venting any entrained vapor bubbles.  The rotational velocity of the liquid is directly proportional to flow rate.  A neutrally buoyant rotor spins with the liquid between V-jewel bearings.  Rotor movement is sensed when notches in the rotor interrupt an infrared light beam between an LED and phototransistor.
The vapor venting design requires that the transducer be positioned with the electrical connectors pointing up.  Turbulence caused by valves or sharp elbows mounted close to the transducer inlet can affect transducer K-Factor and should be minimized.
​

Material Specifications:
Flow Transducer BodyDie-cast Aluminum, Chem-Treated
RotorRynite
Rotor PivotStainless Steel
PhototransistorSD 1440
Light Emitting DiodeSPX 4108
Connectors20 Gauge Wire Leads (3)
Electrical Specifications:
12 to 15 VDC between RED (+) wire and BLACK (-) wire.  30 to 50 mA at 12 VDC.
Clients
Piper www.piper.com
Shadin www.shadin.com
JPI www.jpinstruments.com
Instrument Tech www.instrumenttech.com
Machen www.aerostaraircraft.com
TL Elektronic www.tl-elektronic.cz
Insight Avionics www.insightavionics.com
Trio Avionics www.trioavionics.com
Signal Specifications:
Open collector transistor output on WHITE wire.  Sensor will pull-down to 1.0 volt with 10-15K ohm pull-up resistor installed.
​

Aircraft Transducer Terms and Conditions of Sale
(1)  Flow Test Sensors.  All goods received will be subject to Buyer's right to inspect and reject.  Specifically, Buyer has 45 days from the date of receipt of the shipment of flow sensors to flow test them.  If the Buyer fails to inspect, test, or reject the flow sensors within the 45-day period, then Buyer accepts the flow sensors as meeting the flow test specifications contained in the sales order.  If the Buyer rejects a flow sensor within the 45-day period because it fails to meet the flow test specifications contained in the sales order, then Buyer may return it to the Seller, accompanied by the Buyer's flow test results.  Seller will retest the flow sensor, and if it fails to meet the flow test specifications contained in the sales order, then Seller will replace it free of charge.   If the flow sensor passes the retest, then it will be returned to the Buyer in fulfillment of the order.
(2)  Choice of Law. This sales order shall be governed by and construed in accordance with the laws of the State of Washington. By placing this order, the Buyer irrevocably consents to the jurisdiction of the courts in the State of Washington with respect to any dispute arising from this order.
(3)  Warranty.  Seller warrants that all products delivered to the Buyer will be free from defects in workmanship and materials, and shall conform to applicable specifications including performance specifications.   The term of this warranty is 12 months after delivery to Buyer or to Buyer's customer, but in no case longer than 24 months from the Seller's shipment date from the factory.
Payment Terms
(1)  All sales are stated in and due and payable in United States Dollars (USD).
(2)  Unless stated otherwise on the invoice, goods are shipped "free on board" (FOB) Seattle, Washington, USA.
(3)  Unless stated otherwise on the invoice, terms of sale are Net 30 days.
(4)  Late payment outside the stated terms may be subject to a 1.5% monthly charge.