FloTrac Diesel Fuel Flow Monitoring Systems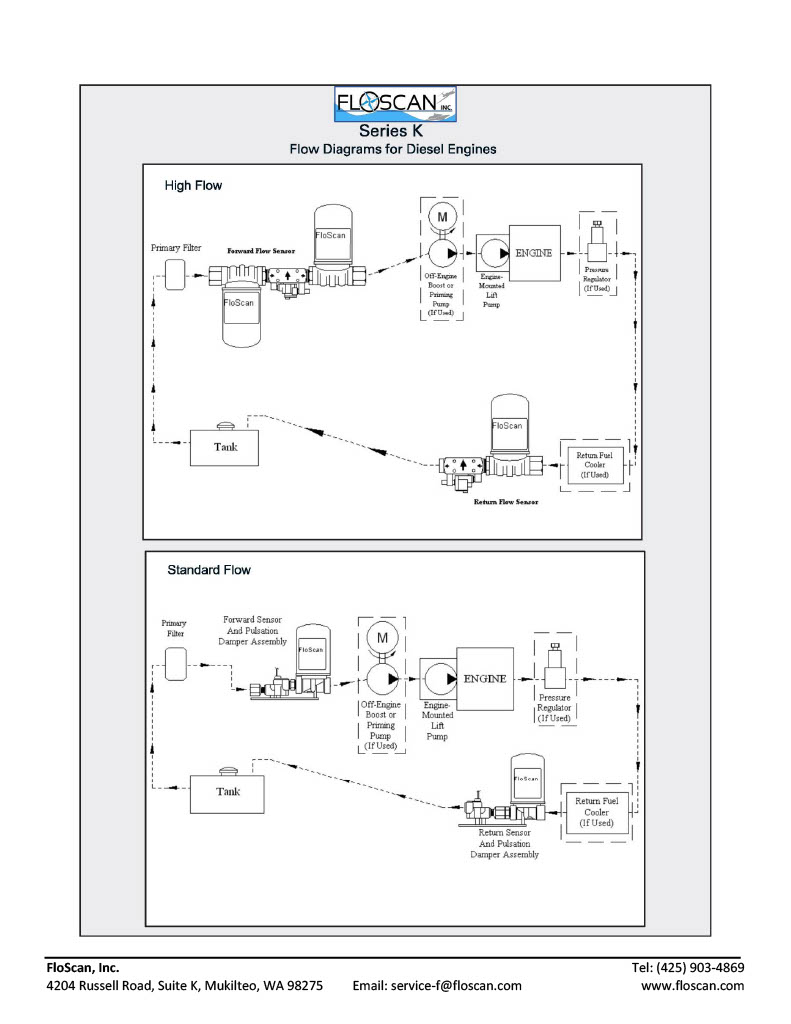 View or Upload FloTrac Datasheet PDF
FloTrac is the latest addition to FloScan's fuel flow line of digital  instruments for diesel engines rated from 30 – 5000 kW. 
In areas where EPA air quality regulations apply, FloTrac  addresses the need for accurate flow measurement to  determine baselines for NOx emission reporting. 
FloTrac can also point out poor engine performance (poor  injection, failed turbo's, etc.) as well as possible fuel pilferage.  Discrepancies between tank fill-up records and the totalizer  reading will identify this problem immediately. 
FloTrac can also be used for fuel billing purposes by  monitoring precise fuel consumption per job or contract. 
FloTrac Model Features: 
Instantaneous net fuel burn rate. 

Cumulative (non-resettable) fuel totalizer. 

Resettable fuel totalizer. 

Engine hour meter. 

Pulse and analog (0-5V / 0-10V / 4-20mA) signal  outputs available for logging net fuel consumption  totals. 

(+/-) 2% accuracy on generator applications.

•

Models available in U.S. gallons or liters. 
Uses include: 
Provides accurate fuel usage data for determining  NOx emissions. 

Identifies poor engine performance with increases in  normal fuel consumption. 

Possible fuel pilferage can be identified immediately  by comparing fill-up records with totalizer reading.

•

Provides accurate fuel usage data for billing  purposes.  

Cumulative fuel totalizer can be used for  
determining engine service intervals. 
Principal of Operation: 
Most diesel engine fuel systems employ forward and return  fuel flow lines. The return flow amount must be measured  and subtracted from the forward flow amount to determine  net consumption. The amount of return flow varies by engine  type – from as little as 10% of net fuel consumption to a  much as 1000% or more… necessitating very tight margins for  error when measuring flows and calculating the difference.  With regard to engines that use the return flow to cool the  injectors (i.e., Detroit Diesel and CAT 3500 Series), the return  flow temperature is substantially higher than the forward  flow – leading to the possibility of error in measurement  caused by the expansion of fuel due to high heat. FloScan has  designed special temperature-compensated systems to  accurately measure and account for these inconsistencies.  Each pair of FloScan flow sensors (forward and return) is  individually calibrated and matched to the microprocessor driven instrument head.