NMEA 2000 Interface
The FloNET® Diesel Series is designed to interface with a NMEA 2000 network.  The FloNET Interface hub takes current fuel rate values and broadcasts it to the network via PGN 65280 (FloScan Fuel Rate) and PGN 65281 (FloScan Fuel Total).  The data is also broadcast simultaneously under PGN 127489 (Engine Parameters Dynamic) and PGN 127497 (Engine Trip Parameters).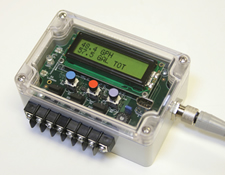 Marine electronics manufacturers can now incorporate FloScan fuel flow information as part of their product offering.  Garmin, Lowrance, Simrad and Nobeltec are a few of the manufacturers that offer immediate product compatibility.  Data that can be displayed by these manufacturers may include:
Gallons/Liters per hour
Gallons/Liters consumed
Gallons/Liters remaining
Nautical miles per gallon / Liters per nautical mile
Distance to empty
NOTE: Please refer to your manufacturer's product manual to confirm fuel flow display options and NMEA 2000 network component requirements to display our data.
Click here to see the Single Engine FloNET Interface Module Installation Diagram
Click Here to view flow schematics for FloScan Series N2K
Applications
Fits virtually all marine gasoline or diesel engines rated from 25 hp – 6000 hp.  Models available on a per-engine basis.
FloNET Hub Installation
Connects to the NMEA 2000 trunk line via DeviceNET® cabling and connectors.  Power and ground requirements supplied via trunk line connection.
Flow Sensor Installation
Engine details (make / model / hp rating) will determine whether the Standard Flow or High Flow Sensor System is used (see plumbing   diagrams below).  Flow sensors connect directly to the FloNET interface hub.  Power and ground requirements supplied via trunk line connection.
NMEA 2000 Specifications
Parameter Group Numbers – 65280 / 65281 / 127489 & 127497
FloScan Manufacturer Code – 192
FloScan Product Code – 5872
NMEA 2000 Compatible Products
FloScan has teamed up with top marine equipment manufacturers to bring you fuel flow data on a variety of displays that you already own or plan to purchase.
• Garmin…………………… 4200 Series and 5200 Series, GMI 20 Series
• Lowrance…………………. LCX Series and HDS Series
• Simrad…………………. NSE Series, NSS Series and NSO Series
• Nobeltec